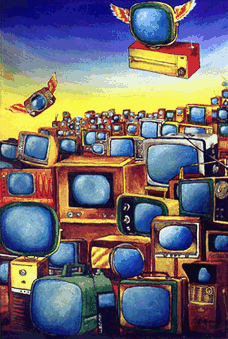 "TVscape 2001"
Painting by Phil Savenik
This club is dedicated to the shameless adoration of television. We salute TV as art, celebrate the greatest (and wierdest) TV sets ever made, and have created a shrine in honor of the actual patron saint of television. There's also an interactive club for TV lovers and you can find TV treasures and televisionary art for sale at our studio store. Membership is free , and all members get a free bonus video on "televisionary art"!
Get cool TV stuff click here.